On November 29th, the 'Global Friendship Festival' was held at gymnasium No. 2 at KBS Sports World, with the theme, 'Connected Culture, Connected Friendship.' Even in the chilly weather, foreigners from all around the world and Korean college students made new friends through the experience booth called, 'Let me introduce the country of my friend' and enjoyed the lecture titled, 'global employment mentoring' and performance, 'Korean Wave the world is enjoying', and shared a sympathetic ear while discussing difficulties during college life.

<Becoming Global Friends Booth, Malaysia, Japan, China>


First, the participants became friends while trying on traditional costumes of other countries at the booth and exchanging cards. During the experience of 'Preparing Gimjang', the participants wore an apron to prepare a spice mixture for making kimchi, spread it between each leaf within a head of cabbage, and then completed one head of cabbage kimchi. In addition, the college students who were living alone far from their families contributed some belongings they did not use, and also purchased goods they needed in the 'global flee market.' Proceeds from the event will be donated in full to the educational institution named 'Hamil school,' which has been founded for the youth from multicultural families.
Foreign international students and Korean college students alike all experienced different cultures from around world, and had an opportunity to seek direction for their future through the lecture, 'Global employment mentoring.' Sujan Shakiya, who came from Nepal as an international student, is currently working in a Korean company after graduating from college, and had been in the spotlight by appearing on the JTBC program 'Non-Summit Conference,' appeared on stage. The audience was inspired by his experiences and involvement in various activities which has led him to be cast on TV and attaining employment. The question-and-answer session continued with Ilya Belyakov from Russia for replies. For international students' concern that it's difficult to adapt because they arrived in Korea not long ago, Ilya received great ovation from the audience for his authentic advice that "it is unthinkable to compare between one's own country and Korea. The effort to understand Korean culture is a necessary first." The audience listened with rapt attention as Agent Yi Myungjoon from the KOTRA global employment planning group gave practical employment information to foreign students from abroad. At same time, he also emphasized that there are many opportunities for students in Korea who are seeking a job abroad. Both speakers advised students to accumulate experiences in small and medium-sized businesses rather than seeking employment only in larger companies.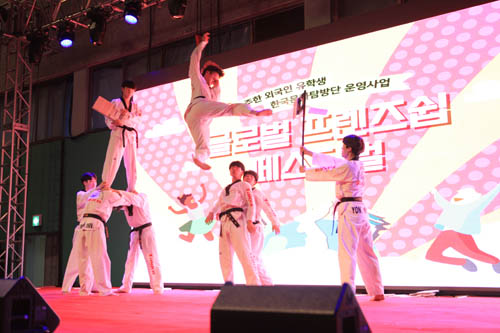 <Taekwondo martial arts demonstration performance>
College students regathered after the introduction activities with their stomachs filled of newly made Kimchi [Geotjeolyi] and boiled beef [Suyuk], and applauded the 'Taigon' Taekwondo demonstration team of Young-In University and the K-pop Taekwon dance. As Belgian, Julian Quintart, who participated on the JTBC TV show 'Non-Summit Conference,' appeared and began to DJ the festival's closing party, the cheering of all participants as they approached the stage had given the feeling that the world is united in one. From the festival participants who expressed their opinions: "It was awesome to try on and take pictures in costumes from other countries," "It was good to make friends even though I came alone," and "Students from Malaysia were kind and fun."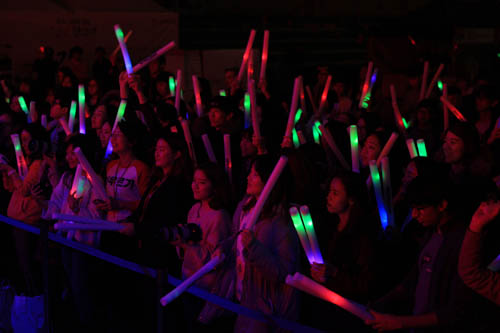 <Fun dancing time>

In addition, ''Outlookie' who organized the experiences for Korean language, foods, e-communication, Taekwondo, and tourism through five Korean culture inquiry events since last April, and also successfully concluded the 'Global friendship festival,' will wrap up their Korean culture inquiry activities in December after reviewing the outcomes of all events during the final meeting and dismissing for the term.